1998-99 RMC Varsity Badminton Team
The 1998-1999 team ended the season ranked ninth in the country.
Here I am coaching them at their favourite activity.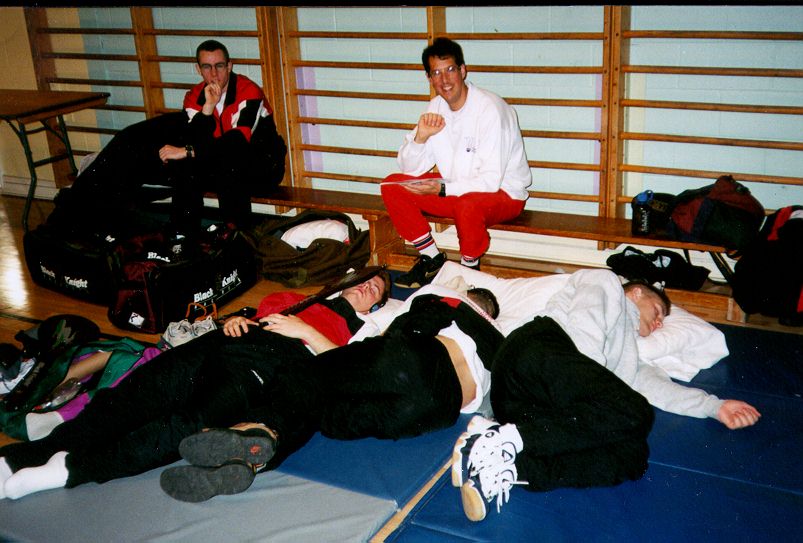 Seven out of our ten competitors qualified for the provinicial championships.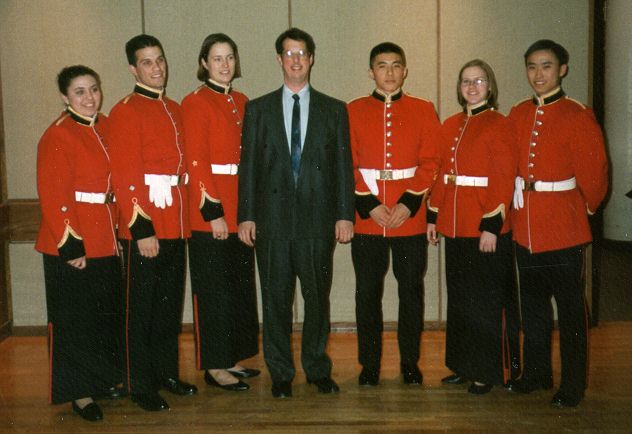 These seven (plus me) were from left to right: Rae-Lynn Richard(women's doubles), Ben Achim(men's singles), Twyla Rettman (women's doubles), David Wehlau(coach), Jon Lee(men's doubles), Isabelle Jean(mixed doubles) Howard Yu (men's doubles), and Phu Nguyen (absent). As you can tell from the photograph Phu was unable to attend the tournament.
Here we are celebrating Winterlude in Ottawa the night before the tournament.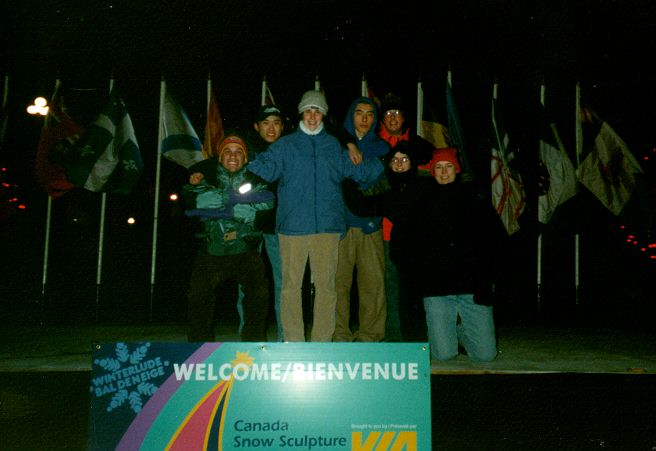 All our players excelled and we finished third in the first ever team provincial championships.
The women's doubles team won the silver medal in their event. Here they are with their medals. As you can see the coaches get a medal too.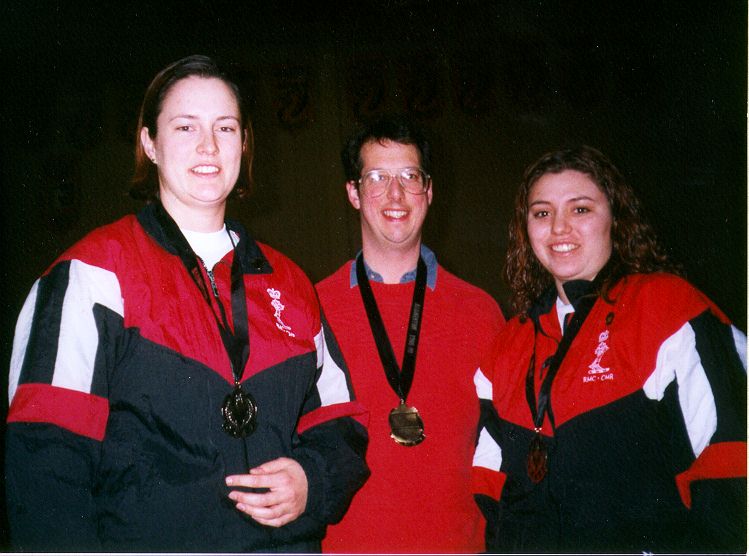 Here they are on the podium with the other medalists.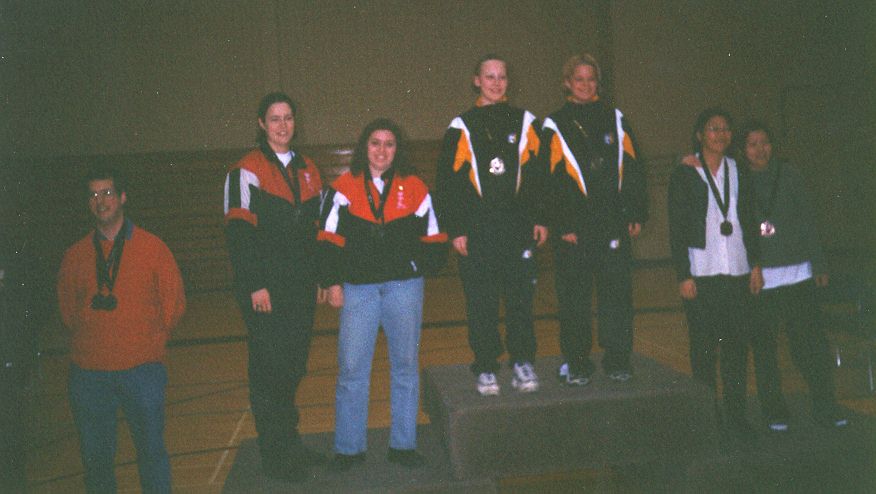 Ben Achim captured the gold for men's singles. Ben's gold medal qualified him for the CCAA National Championships in Truro, Nova Scotia. Ben and I travelled to Truro where he played for and I helped coach (along with Rob McCann of Cambrian and Jamie Hurlburt of Seneca) Team Ontario.
Here are Ben and I in our Team Ontario uniforms.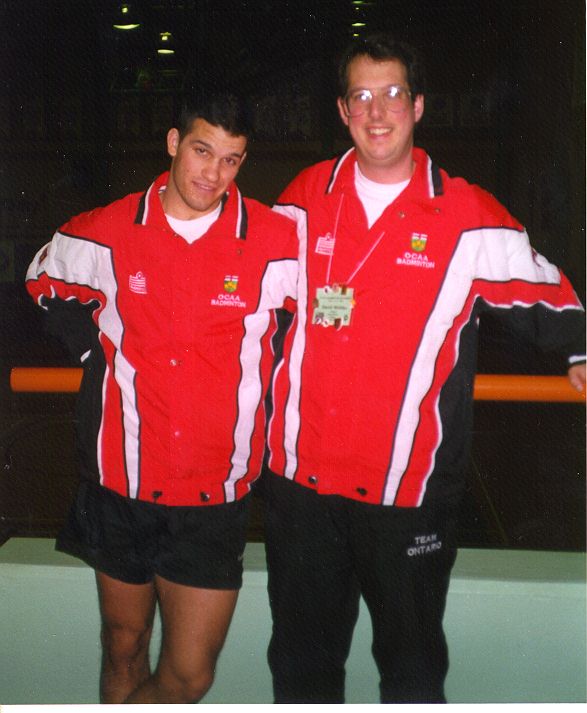 Here is a photo of Team Ontario.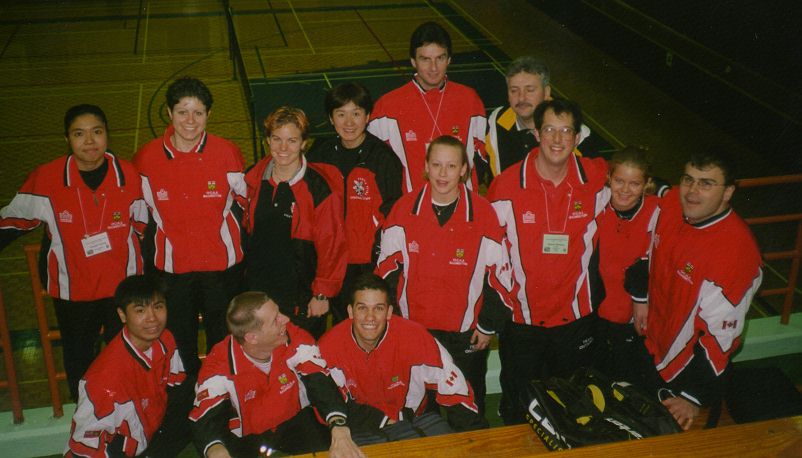 From left to right we have:
Back Row: Jamie Hurlburt(coach) and his wife Yung, Bob Piche
Middle Row: Teresa Tsang(XD), Sue Mileva(WS), team physiotherapist, Mel Finley (WD), David Wehlau(Coach), Gabe Roy(WD), Rob McCann(Coach)
Front Row: Ken Lem(XD), Rob Parnell(MD),Ben Achim(MS)
Absent: Mike Kaytar
Here are a couple of shots of Ben playing at the nationals.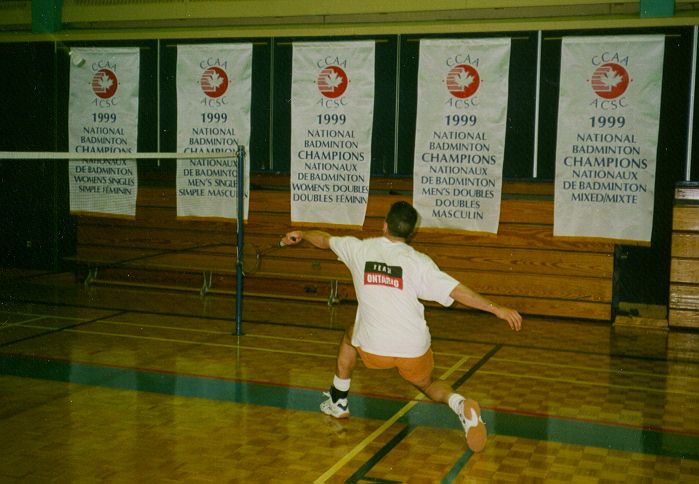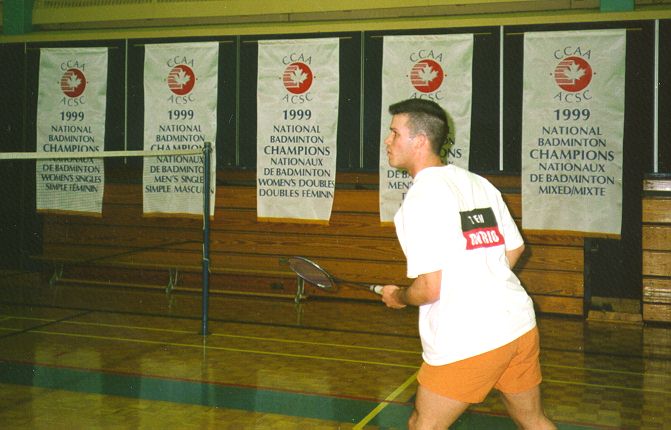 Ben played extremely well against some very strong players. A highlight of his play during the round robin qualifier was his exciting match against the eventual gold medal winner, Steve Smith of Alberta. Ben lost 7-15, 15-11, 15-13.
Here is a shot of the team watching play during the opening rounds.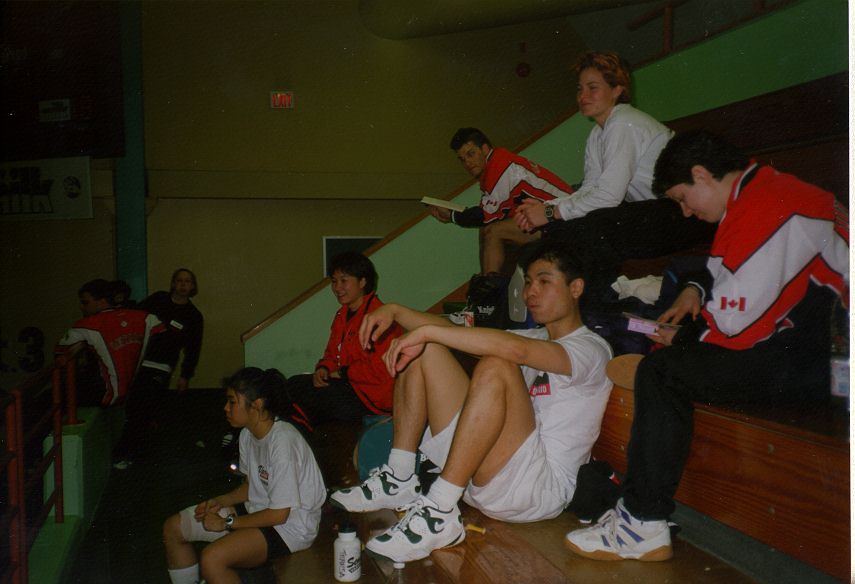 Here is a photo of the Men's doubles team of Mike Kaytar and Rob Parnell of Cambrian College. They won the gold medal for the second straight year. That's Rob in the front.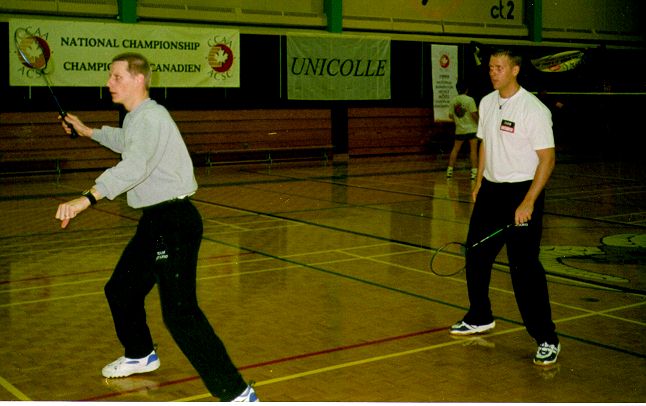 Here is the women's doubles team, also from Cambrian, of Mel Finley and Gabe Roy (waving). They won the silver medal.

Ben made it to the bronze medal match against Brandon Coutino of Douglas College in British Columbia. After winning the first game 15-11, Ben twisted his ankle early in the second game. He went on to lose the second game 15-11 and in the third game trying to protect his ankle he injured his thigh and was forced to default. Here he is after the match.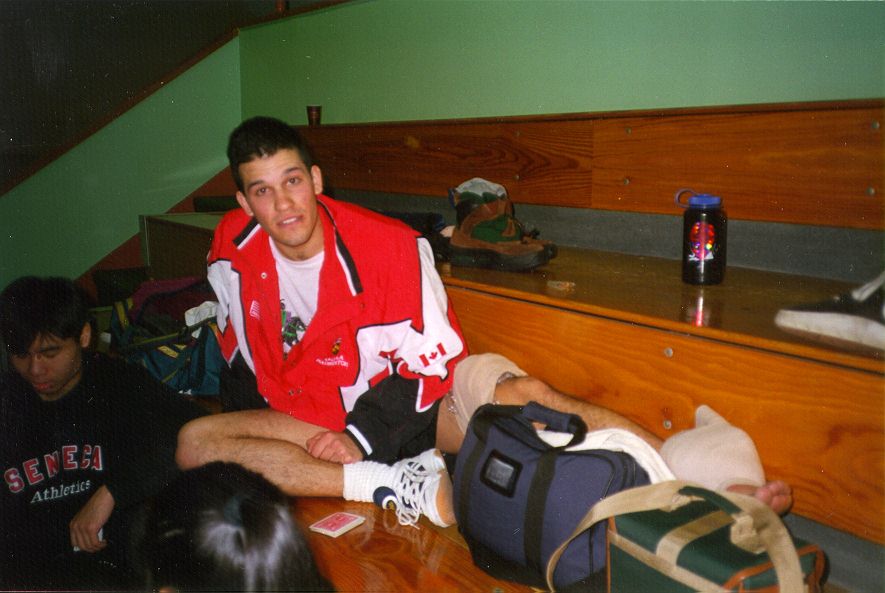 Team Ontario played extremely well and finished first for the first time ever. Here is a shot of Ben and I with the team championship trophy.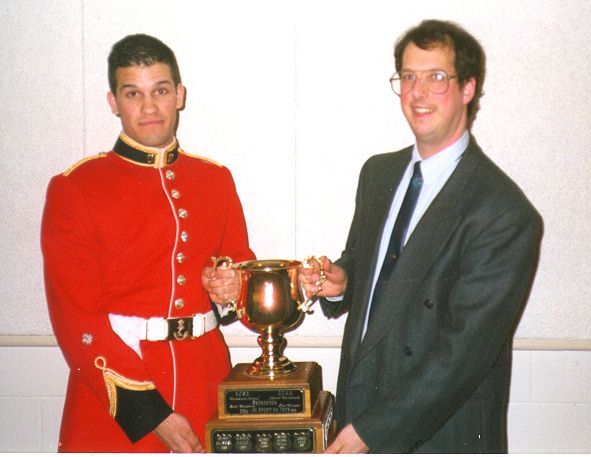 After the tournament there is a big party for all the teams. Here is a picture of me at the party sipping some milk from the championship trophy. That's Ken Lem in the background.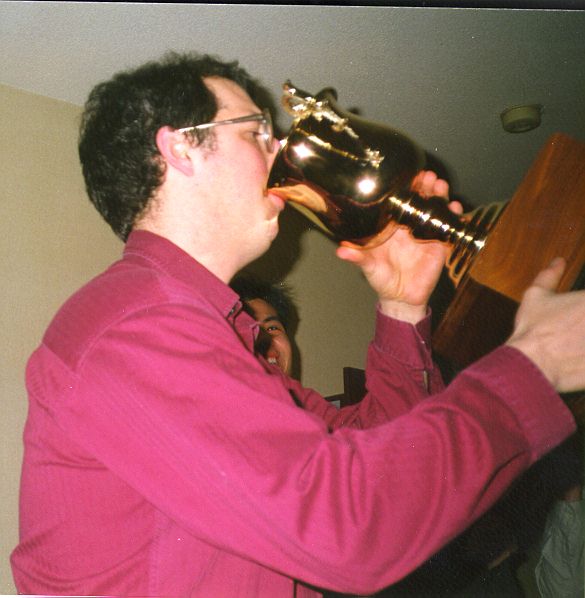 ---